Pepwave Balanc Routers

With the Peplink balance Multi WAN routers you can combine up to 13 internet connections for extremely fast and reliable internet. When one connection is lost, the user will not notice it using SpeedFusion Hot Failover. This makes this router ideal for critical processes and business environments.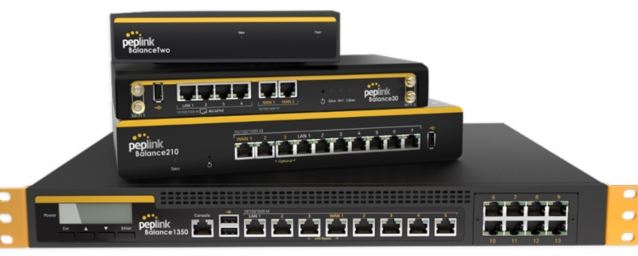 Speedfusion bandwith bonding
Speedfusion bandwith bonding is the technology at the heart of every Peplink multi WAN balance router and Pepwave MAX router. Speedfusion binds the bandwith from multiple internet connection and transforms it to 1 big connection. In this way you get a more reliable, stable and faster internet conncection. In case of a connection failure the router switches smoothly to healthy connections without a flaw.


VPN Connections:
The balance BPL-305 supports VPN connections (2 PCS). With a speedfusion license you can extend this to 20 Pep VPN Peers. Load balancing ensures that there is always a stable and secure VPN connection. With a VPN throughput of 150 MBps you have an excellent connection speed, even when one connection is lost. SpeedFusion Bandwidth Bonding ensures that all connections are combined into one large bandwidth for the best performance.
AP Controller:
With AP controller up to 1500 Peplink wireless accesspoints can be managed remotely. The Peplink BPL-305 supports a maximum of 50 AP's. The simple interface allows you to view reports and detailed event logs. It is also possible to set up a hotspot for customers using the Captive Portal function. Easily determine the connection speed and data limit.
InControl
With InControl2, a Peplink cloud-service, you can monitor your network's bandwidth consumption, connection status, connected clients and more in an easy to use bird-eye view.
You can remotely acces every web Admin of any router in your network.You can adjust your routers configuration and push it to multiple devices at the same time.
LAN Bypass en Drop-In
Peplink LAN Bypass is a feature, which, in case of a power outage, will bridge the WAN 1 port with the LAN1 port. In this way your network connectivity is protected and ensured. When used with the drop-in mode you can extract and or add a new Peplink Balance router to your network without loosing any connections.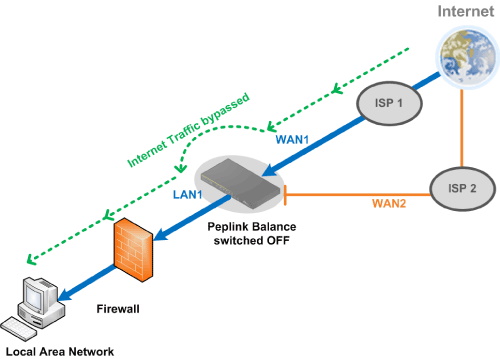 Peplink Balance 305 External product page
Click here to learn more about our Peplink Balance routers