Properties:
Simlock free 5G router
M2M-4G+ LTE/5G CAT 20 Router + GPS
Throughput speed: up to 400 Mbps
Dual Band 2,4 + 5 GHz WiFi 6
Up to 15 connections at the same time
SpeedFusion Hot Failover
Certified for tough conditions
2x 1Gbps LAN 1 x 2,5 Gpbs LAN / WAN
Power Connector 10-30 VDC
World coverage
Description:
The Pepwave MAX BR1 PRO 5G router is designed for tough industrial and automotive applications. One of the most important features is the robust housing, which is made of impact-resistant materials that can withstand extreme conditions. The The MAX BR1-PRO-5G M2M router can withstand shocks, vibrations and extreme temperatures. For the various certifications, we refer to the specification sheet in the download area.

With the robust and intelligent Pepwave MAX BR1 PRO 5G router you can realize reliable point-to-point or point-to-multi Wan connections for critical processes such as primary internet, video surveillance, payments, vehicle communication, campers, yachts, police cars, fire trucks, ambulances etc. The hot failover provides an uninterruptable internet connection. Under videos you will find a demo of this Hot Failover technology.
The Pepwave MAX BR1 PRO has UTP ports tw. 2x GB LAN and 1x 2,5 GB LAN/WAN ports and a fast WiFi connection, which makes this Pepwave M2M router very suitable for fast and reliable internet. The router uses the speed and performance of the 5G/ LTE network to seamlessly connect to various Machine to Machine (M2M) and vehicle applications in the industry.
The Pepwave MAX BR1 PRO 5G CAT 20 industrial router has an external GPS connection and a wide input (10-30 VDC). In addition to an included power adapter, the MAX BR1 can be connected directly to the ignition of a vehicle via a terminal block connector. This allows the router to be properly started or turned off. These unique properties make the Pepwave MAX BR1 PRO 300 MBps M2M router ideal for vaious kinds of transport and asset tracking applications.
NOTE!: If you want to install the Pepwave MAX BR1 pro in an RV , Campervan or yacht, order the ACW-634 power cable with it.
Security with PepVPN, Firewall and QoS
With the MAX BR1 from PepVPN you can create a secure network with one IP address. The VPN connection uses IPsec encryption and the connection is never broken through Hot Failover. In addition, your network is protected by an SPI firewall. This blocks unwanted websites for (part of) the connected devices. With Quality of Services you also give priority to the data flows, so that these processes always work.
Peplink Speedfusion Solution
The Peplink SpeedFusion solution consists of 3 technologies to solve specific network problems: Hot Failover, Wan Smoothing and Bandwith Bonding. Whenever there is a break in the connection, the MAX BR1 router recognizes it in time and is repaired so quickly that there is no connection and or performance loss.

Read here more about the Peplink Speedfusion Solution
With the built-in GPS-tracking and InControl2 cloud based remote all your company routers can be remotely managed and controlled. With the GPS you can monitor all the locations of the vehicles in your fleet. There is a mobile app available in de app store.
Click here for the InControl2 video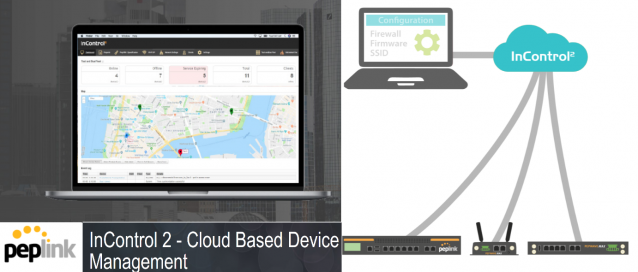 Customizable portal
Personalizing the access portal can easily be done by uploading your logo and terms and conditions. Permitted bandwidth and access time per user or distance radius can be easily adjusted.
In the box:
1x MAX-BR1-PRO-5GD-T-PRM
1x 12V2A Power supply (ACW-632)
2x 5 dBi dual band Wi-Fi Antennas (2.4 + GHz) (ACW-341)
1x GPS Antenna (ACW-232)
4x 2 dBi 4G LTE Antennas (5G/ LTE) (ACW-235)