Properties

400 MBps throughput
150 users
Multiple providers Dual SIM
Peplink SpeedFusion
Ext. antenna 1x GPS, 4x WiFi, 4x LTE


Description
The MAX HD2 is a reliable M2M router which provides fast and reliable internet on the go. With the dual embedded cellular modems it is possible to connect multiple SIM cards from the same or two different cellular providers and stack these bandwidths for an extra wide bandwidth. In addition, the built-in 4-port GE switch helps reduce clutter in your mobile deployments. All of these applications are fitted in a rugged enclosure suitable for challenging environments. For the different environmental certificates, we refer you to the specification sheet.
Security with PepVPN, Firewall and QoS
With the MAX BR1 from PepVPN you can create a secured network with just one IP-address. The VPN connection uses IPsec encryption and the connection is never broken through Hot Failover. In addition, your network is protected by an SPI firewall. This blocks unwanted websites for (part of) the connected devices. With Quality of Services you also give priority to the data flows, so that these processes always work.
Peplink Speedfusion Solution
The Peplink SpeedFusion solution consists of 3 technologies to solve specific network problems: Hot Failover, Wan Smoothing and Bandwith Bonding. Whenever there is a break in the connection, the MAX BR1 router recognizes it in time and is repaired so quickly that there is no connection and or performance loss.

Read here more about the Peplink Speedfusion Solution
With the built-in GPS-tracking and InControl2 cloud based remote all your company routers can be remotely managed and controlled. With the GPS you can monitor all the locations of the vehicles in your fleet. There is a mobile app available in de app store.
Click here for the InControl2 video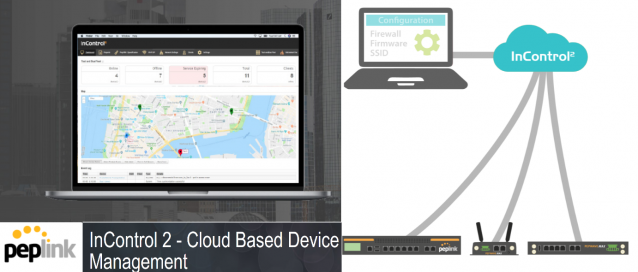 Customizable portal
Personalizing the access portal can easily be done by uploading your logo and terms and conditions. Permitted bandwidth and access time per user or distance radius can be easily adjusted.
In the box:
1x Pepwave MAX HD2
1x 12V3A adapter
4x 5dBi WiFi antennas
1x GPS active antenna
4x 2dBi 4G LTE antennas
4x magnetic RP-SMA adapter
1x pair of mounting brackets