Mobile, fast, stabile and worldwide internet in your campervan
This bundle has been specially put together for reliable internet on camper(vans), mobile homes and RV's. This bundle consists of a Celerway Go single modem portable router combined with a Poynting OMNI 0600 LTE MiMo quality antenna. A suitable internet solution for every online situation at a competitive price.
Celerway Go single modem CAT 12 LTE router
The Celerway GO single modem router delivers mobile/portable internet worldwide with impressive download speeds of up to 1Gbps (load balanced).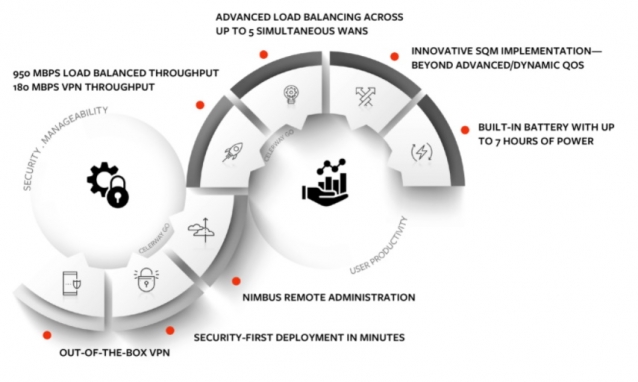 Celerway GO fits in the palm of your hand, is highly secure and has its own 10,000 mAh power supply. The Celerway GO CAT 12 Mi-Fi router allows you to work remotely with a stable internet connection for optimal remote operation. This can be a excellent solution when you travel frequently, for employees in the field, but also for a remote office for example. The Celerway GO portable multi WAN router comes in two models:
Model 01: Single CAT12 Modem, 2 Wi-Fi Radios 1x 2.4GHz + 1x 5GHz
Model 02: Dual CAT12 Modem, 2 Wi-Fi Radios 1x 2.4GHz + 1x 5GHz
Stable and Mobile Communications Solution
The Celerway GO CAT12 LTE dual modem router is designed with impact-resistant materials and includes a sturdy casing. Moreover, Celerway GO is equipped with a built-in 10,000 mAh battery with an operating time of more than 7 hours. This makes Celerway GO CAT12 LTE the perfect solution for critical processes on the road, for streaming services, reporting live events, providing payments, on the road in motor homes, on yachts, etc.
Celerway GO CAT12 LTE is easy to install and manageble remotely. In addition, the powerful Celerway GO provides over fifty users with "unbreakable" and high-speed Internet connection, allowing you to establish reliable point-to-point or multi WAN connections. Celerway GO Mi-Fi router features 2 pieces of GBit UTP ports that can be configured as both LAN and WAN ports. In addition, Celerway GO model-01 and model-02 includes two Wi-Fi radios. Radio 1 has 2.4GHz b/g/n (300 Mbps) and radio 2 has 5GHz a/b/g/n/ (867 Mbps). These Wi-Fi radios can also be set up as WAN (Wi-Fi WAN). This makes this M2M router very suitable for fast and reliable internet. In total, Celerway GO allows up to five simultaneous WAN connections to be set up, including two mobile WANs.
Celerway remote operating system Nimbus & phantom
The Celerway Operating System is a powerful, open-source software application that manages and remotely controls internet traffic. The software continuously monitors data traffic using dozens of operational parameters. As a result, data traffic is routed intelligently and simultaneously across the available SD WANs.
As standard, every Celerway router comes with a three-year license of Celerway Nimbus and Phantom and a three-year warranty on hardware. Read more about "uninterrupted connection" on the Celerway homepage.
Nimbus
Celerway Nimbus enables (remote) administrators to remotely install and manage a wide range of CelerwayOS-enabled routers. Celerway Nimbus allows its users to quickly configure large-scale deployments and make them available online, speeding up the onboarding process for remote administrators, for example. With its comprehensive set of quality indicators, analytics and alerts, remote administrators can easily perform real-time monitoring, reducing the time spent managing devices.
Phantom
Celerway Phantom is a distinctive feature, allowing you to seamlessly and dynamically switch between VPNs, networks and WANs. This allows you to set up a highly flexible, secure and reliable network connection without any loss of data. Each hardware router and virutal device can function as a hub or branch, or both, while each branch can connect to multiple Phantom hub instances. Celerway Phantom automatically selects the most optimal hub instance. In addition, Celerway Phantom can be used on-premises or in the cloud, resulting in uninterrupted high-speed VPN and site-to-site communication across multiple simultaneous networks of any type.
Poynting OMNI 0600 LTE MiMo antenna


Description
The Poynting OMNI-A0600 is an ultra-wide band LTE and WIFI antenna, which covers all LTE operating frequencies (410-3800 MHz) with an excellent gain across all frequencies. The Poynting-A0600 is a 2x2 MIMO omni antenna and has 2 separated radiating elements placed above each other in the same radome.

Due to the brilliant antenna design the Poynting Omni-A0600-02 lte MiMo antenna has a superior radiation pattern over the entire frequency range. With the Poynting OMNI-A0600 you have a true high performance omni-directional MIMO antenna, suitable for base station and coastal applications.
The Poynting A-OMNI-600-V1-02 guarantees signal reception almost everywhere around the world. Poynting Antennas achieves this through new antenna configuration using multiple dipoles and a unique (patented) feed network. The antenna is 5G-future proof as it covers the 450 and 3800MHz LTE frequency which is becoming more popular in various regions and countries!
Properties:
Celerway Go Cat 12 LTE single modem portable router
Portable router
Loadbalancing throughput 950 Mbps
Up to WAN-connections
2x GB WAN/ LAN
2x 2dBi 4G LTE antennas
Poynting A-OMNI-0402-V1-01
Freq. 410-3800 MHz
Type: OMNI-MiMo LTE Marine antenna
Cable 2xHDF 195 L=2m
Connector 2xSMA Male
1"-14 Marine Mount
Gain: Max 6,2 dBi
Application Areas
•IoT and M2M
•Enhanced LTE Reception
•Poor data signal reception
•Improve data transmission connection reliability & stability
•Wi-Fi Applications
In the box: