Description
The Poynting OMNI-214 is an ultra-wideband antenna, which covers all contemporary LTE/5G frequency bands with excellent balanced gain across all frequencies from 617 to 3800 MHz. The antenna offers 4x4 MIMO capability from its vertically separated radiating elements, all in the same single radome. The OMNI-214 is the land version of the Poynting OMNI-414 Marine antenna.


The antenna design allows for superior pattern control over the entire frequency range, making the OMNI-214 a true omni-directional 4x4 MIMO antenna, suitable for urban or commercial applications. The OMNI-214 guarantees signal reception almost everywhere and is usable in all part of the world.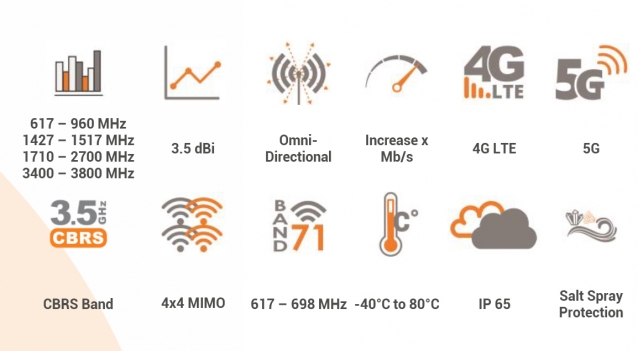 The ultra-wideband performance makes the antenna future proof, as it covers LTE Band 71 (617 to 698 MHz) as well as the CBRS bands from 3400 to 3800 MHz for inland use. The antenna comes with an IP65 protection rating against dust and water ingress, making it ideal for urban and commercial deployments
The OMNI-214 is delivered with the L-Bracket. Optionally, the BRKT-40 Marine support RVS316 can be used.
Eigenschappen
5G ready
Frequency 617-3800MHz
EAN6009710923665
Wi-Fi -frequency 2,4-2,5 GHz
Type: 4x4 OMNI MiMo LTE Marine-antenna
High performance antenna
L-bracket voor pole and wall mounting
Gain: Max 3,5 dBi
Cable 4x HDF195 L=2 meter
In the box
Poynting A-OMNI-0214-V1-01
L-bracket (Ø30-50mm pole)