Properties:
Freq. 450-470, 690-960,1427-1517, 1710-2170, 2300-2700 MHz
Type: Omni LTE Marine Antenna
UV and salt water resistant
Connector N-Female
1 "Marine Mount
Gain: Max 7 Dbi.



Description
The Poynting A-OMNI-0291-V2 is a robust marine antenna with high gain (max. 7 dBi) and is designed for fixed mounting for indoors and outdoors. The Poynting omni 0291-V2 has been further developed based on the Poynting OMNI 291-V1 antenna and has a frequency range of 450 - 470, 1710 - 2170 and 2300 - 2700 MHz.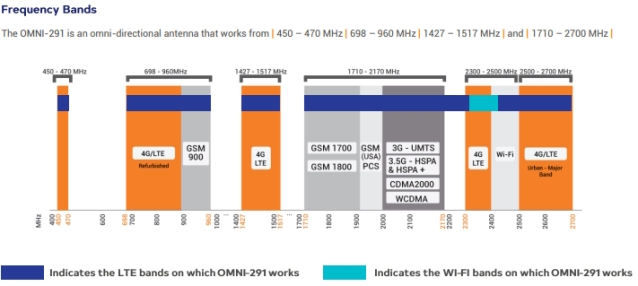 Ultimate antenna for sea going yachts
The radiation pattern of the Poynting A-omni-0291-V2 is unique. Too high gain will cause an "overshoot" while too low gain will cause inefficiency and the signal will not reach the shore. See pic below. The Poynting A-OMNI-0291 is optimised for Marine use and aboard sea going vessels.

The Poynting A-OMNI-291 has improved performance and can be mounted on standard 1-inch marine brackets. These antenna brackets are optional and can be ordered here. The omni-291-V2 marine antenna is robust and resistant to severe weather conditions. The Poynting Omni-0291-V2 antenna housing is UV and salt water resistant.
This antenna is an OMNI directional antenna and therefore not required to be directed to a GSM mast. In the event that the connection to one cellular tower fails, the antenna will transfer automatically to another cellular tower. The antenna can communicate with GPRS / EDGE / 3G / HSDPA / LTE towers. If the antenna is used on an LTE device, then 2 antennas (MiMo) must be used to optimally replace the device.
The antenna is only 56 cm long and comes standard with a stainless steel L-bracket and the BRKT-40 1 "-14 marine support. The Bracket is suitable for mounting on a pole wall. The antenna is equipped with a N-Female connector. The cable is optional and must be ordered separately. Always choose the shortest possible "low loss" cable
Use the OMNI-0291antenna to improve your GPRS / EDGE / 3G / HSDPA / LTE reception. Connectors are also available on our site to connect your Poynting OMNI 291-V2 to your ZTE, HUAWEI, Teltonika, pepwave, cradlepoint and other 2G, 3G, 4G LTE routers.
Applications
Maritime applications on ships, oil rigs, yachts, mobile offices
M2M and IoT applications
Improve signal reception
WiFi applications
Offshore communication
Voice / data


In the box:
1x Poynting A-OMNI-0291-V2

EAN 6009880915132

1x L- Bracket for Mast and pole mounting

1x BRKT-40 1 "-14 Marine antenna support

1x User Manual (English)