Properties:
Freq. range 698-2700 MHz
Type: Omni LTE & WiFi Marine
Connector N-type Female
1"-14 Marine Mount
Gain: Max 5 Dbi

Description:

The Poynting Omni-0403 LTE is a compact antenna and has a high gain (max 5 dBi) over the entire frequency range of 698-2700 MHz. The antenna and specifically designed for challenging marine, offshore and coastal environments.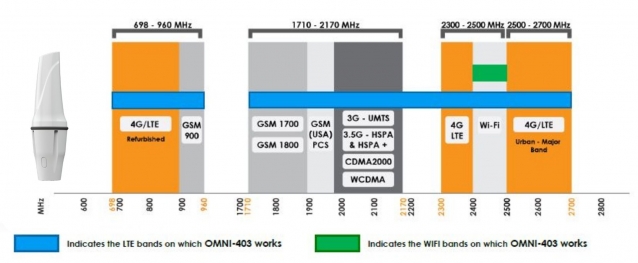 The Poynting OMNI-0403 antenna has a standard 1-inch (14 TPI) marine mount for easy installation with most standard marine mounts. You will find the corresponding 1 "/ 14 TPI mounting brackets in our webshop
The Poynting omni-A0403 has been further developed based on the Poynting OMNI A0291 antenna. However, the OMNI-0403 has a much more compact design without compromising on performance. The housing is robust and resistant to UV and salt water.
The omni-directional antenna ensures that it does not have to be pointed towards a GSM mast. In the event that a mast fails, the antenna must pass on to another mast. The antenna can communicate with GPRS / EDGE / 3G / HSDPA / LTE Masts. The antenna can be used on LTE devices.
Use this antenna to improve your GPRS / EDGE / 3G / HSDPA / LTE reception. Couplings are also available on our site to connect your Poynting OMNI A0403 with HUAWEI, Teltonika, pepwave, Cradlepoint and other LTE routers.
Applications:
Maritime applications / Yachts / Boats / Ferries
Improved LTE reception
IoT and M2M
Poor reception of data signals
Improvement of the reliability and stability of the data transmission connection

In the box:
1x Poynting A-OMNI-0403-V1-01 antenna
1x 1 "(14TPI) Marine adapter