Features:
Frequency range 617-4200 MHz
5G-proof
Multiple Variants Puck-1 to Puck-12
Small & Low-Profile (Ø 100mm x h 36mm)
Waterproof & Dustproof (complies with IP68)
Highly Ruggedised (complies with IK10)
Fire Resistant (certified with ECE-R 118.02)
Multiple mounting options
UV Stable Enclosure
Wideband - covers wide frequency band
Ground plane independent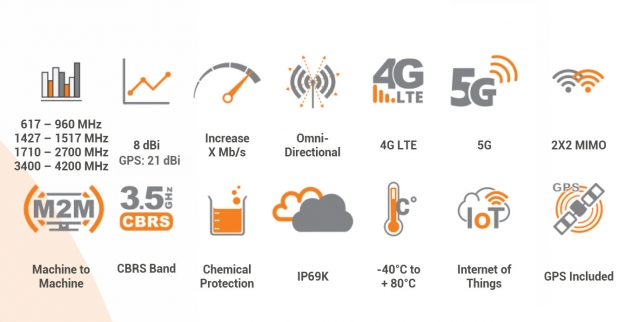 * Depending on PUCK version
Description:
Poynting's new PUCK antenna range offers a small profile antenna for use in the IoT/M2M, Smart Meter, SmartUtilities and Transportation markets.
This antenna range offers a variety of options for MIMO LTE, MIMO WiF iand GPS/GLONASS within the same enclosure, while keeping implementation as simple as possible due to its many mounting options. Due to excellence in engineering and a solid design, this antenna provides exceptional performance for its small size.
The Poynting A-MiMo-Puck-xx MiMo combination antenna is an omni directional antenna which performs on a wide frequency range (617-960, 1710-2700 and 3400-4200 MHz). This means that the Poynting Puck-series are 5G-Proof.

Variants:
The Poynting A-omni-Puck-series come in the following variants:
| | | | | |
| --- | --- | --- | --- | --- |
| Item | Description | | | |
| PUCK-0001 | Puck Antenna | 1x SiSo | | |
| PUCK-0002 | Puck Antenna 2-in-1 | 2x2 MIMO | | |
| PUCK-0004 | Puck Antenna 3-in-1 | 2x2 MIMO | | Yes |
| PUCK-0005 | Puck Antenna 5-in-1 | 2x2 MIMO | 2x2 MIMO | Yes |
| PUCK-0007 | Puck Antenna 4-in-1 | 2x2 MIMO | 2x2 MIMO | |
| PUCK-0008 | Puck Antenna 3-in-1 | 2x2 MIMO | 1x SiSo | |
| PUCK-0012 | Puck Antenna 2in-1 | | 2x2 MIMO | |
| GPS-0001 | GPS/ Glonas Antenna | | | Yes |

Application areas:
M2M applications
Remote metering
Remote monitoring
Mounting possibilities: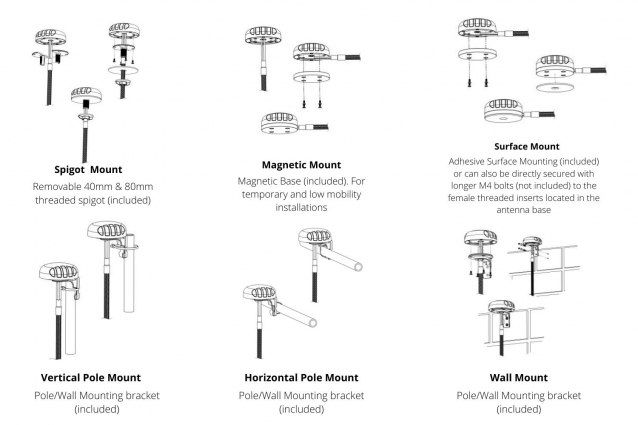 Ordering information:
A-PUCK-0001-V1-01 SiSo-LTE antenne met 1 x LTE
- Black EAN: 6009880915262 / White EAN: 6009710920435
A-PUCK-0002-V1-01 2-in-1 antenne 2x2 LTE MiMo antenne
- Black EAN: 6009880915200 / White EAN: 6009710920572
A-PUCK-0004-V1-01 3-in-1 antenne met 2x2 LTE en 1 x GPS antenne
- Black EAN: 6009880915224
A-PUCK-0005-V1-01 5-in-1 antenne met 2x2 LTE, 2x2 WiFi en 1 x GPS antenne
- Black EAN: 6009880915170 / White EAN: 6009710920817
A-PUCK-0007-V1-01 4-in-1 antenne met 2x2 LTE en 2x2 WiFi antenne
- Black EAN: 6009710920497
A-PUCK-0008-V1-01 3-in-1 antenne met 2x2 LTE en 1x WiFi antenne
- Black EAN: 6009710920510
A-PUCK-00012-V1-01 2-in-1 antenne met 2x2 WiFi antenne elementen
- Black EAN: 6009880915248 / White EAN: 6009710921586
A-GPS-0001-V2-01 GPS/ Glonas Active antenna
- Black EAN: 707273469823