Characteristics

Frequency Range 790-960 / 1710-2700 MHz
Mast base, window and wall mounting
Connector 2x SMA-Male
Gain: max 4 Dbi
Low loss cable 2x5 mtr HDF 195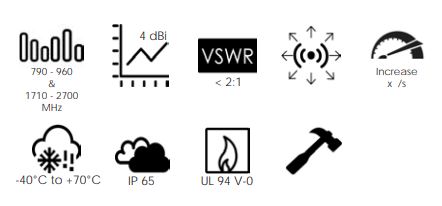 Description
With this innovative and unique Poynting XPOL-A0001 MiMo Omni antenna you will obtain a modern, future-proof solution for 2G / 3G and 4G LTE networks. The XPOL-A0001 is a unique "cross-polarized" antenna suitable for the entire 4G LTE band. The Poynting XPOL-1 antenna can be mounted on a pole or against a wall or window. The Poynting XPOL-A0001 antenna consists of 2 separately powered "Ultra-wideband elements" housed in a weatherproof ABS housing. The poynting XPOL-0001 has a gain of 2-4 dbi.

The XPOL-A0001 antenna is based on the so-called MiMo technology (Multiple input, Multiple output) and is therefore very suitable for current and future modern LTE networks. The weatherproof housing is designed for mast, window and wall mounting. The antenna is equipped with a 2 x 5 meter "low loss" HDF 195 cable with very little loss.
The Poynting XPOL-A0001 antenna provides added value when it comes to signal amplification and provides a higher and more stable throughput for the connected users on the 2G, 3G and 4G LTE network.

Contents of the box
1x Poynting XPOL-A0001 Omni Antenna with 2x 5 meter Low loss cable with SMA male connector
1x Wall and pole mounting brackets
1x User manual (English)