Properties:
Simlock Free with Teltonika Logo
Machine to Machine CAT 12 router M2M
Dual Sim/ Dual Wan
Downloadspeed up to 600 Mbps
Uploadspeed up to 150 Mbps
LTE FDD 700/800/850/900/1800/2100/2600 MHz
LTE TDD 2300/2500/2600 MHz
3G/ UMTS 850/900/1800/2100 MHz
Dual Band Wireless IEEE 802.11 ac
4 x Gb LAN-poort
1 x Gb WAN-poort
1 x USB Port
Bluetooth 4.0
4 x antenna port LTE (SMA-female)
2 x antenna port Wifi (SMA-female RP)
1 x antenne port GPS (SMA-female)
1 x antenna port Bluetooth (SMA-female RP)
Din Rail (optional)
UK-Charger (optional)


Description:
TELTONIKA RUTX14 Cat 12 is a highly reliable and secure 4G Machine to Machine router for professional applications. The RUTX14 delivers high performance, mission-critical cellular. Through the dual SIM failover function of RUTX14 the LTE Router offers the possibility to build a redundant 4G connection. The external antenna connectors allow the use of an external, high-performance LTE antenna. For LTE MiMo antennas visit our website https://www.mifi-hotspots.com/antenna-s/lte-mimo-antennas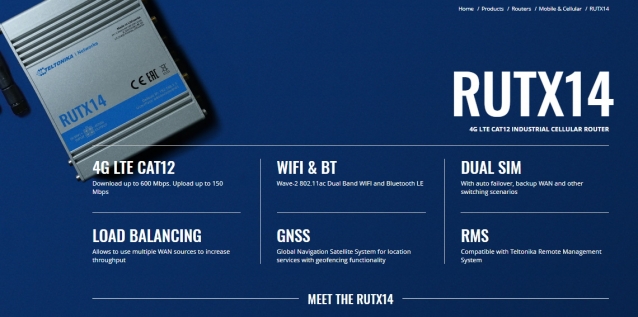 The Teltonika RUTX 14 has various inputs and uses a built-in DHCP server, DNS relay, NAT and more professional features. The router contains the following inputs:
4x Gigabit LAN ports (RJ 45)
1x Gigabit WAN port ( RJ45)
2x External SMA Female broadboand Antenna connectors
4x SMa MAle GPS antenna connection
2x SMA Male RP Wifi connections
1x SMA bluetooth connection
1x USB connection
2x external SIM card holders.
Optimal Range
Are you at a location where the 3G/4G signal is weak? Then connect the MiMo antenna to the SMA Female ports. The extra antenna picks up even the weak signal providing you with a properly working internet connection. This external MiMo antenna is available separately.
Remote Management System
The user-friendly web interfaces makes setting up the RUTX14 easy and fast. If you manage larger numbers of routers, we recommend that you manage the routers remotely with the teltonika RMS. To get acquainted, MiFi-Hotspot offers a 3-unit pack for this, free of charge.
For support and the latest firmware updates, visit the Teltonika Wiki knowledge base.
Managed SIM cards for lot and M2M Applications.
Click here for SIM cards forlot and M2M. The world coverage SIM cards are roming-free and can be managed via a cloud platform.
In the box:
Router RUTX14
24 W PSU
4 x LTE antennas (swivel, SMA male)
2 x WiFi antennas (magnetic mount, RP-SMA male, 1.5 m cable)
1 x GNSS antenna (adhesive, SMA male, 3 m cable)
1 x Bluetooth antenna (magnetic mount, RP-SMA male, 1.5 m cable)
Ethernet cable (1.5 m)
SIM Adapter kit
QSG (Quick Start Guide)
RMS Flyer
Packaging box